Year 7 Students Raise Over £1000 for the Neonatal Unit at Frimley Park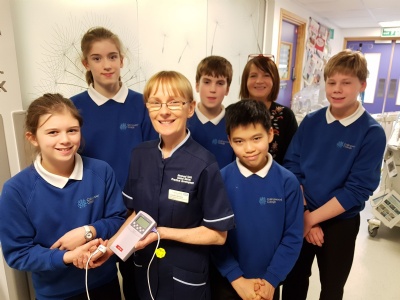 Students invited to Frimley Park's Neonatal Unit following tremendous amount raised as a result of the Year 7 Readathon.
On Thursday 8 February, five Year 7 students (Joseph, Alexander, Ella, Lucy and Ethan), along with Miss Jenner (Readathon Co-ordinator and English teacher) were invited to visit the Neonatal Unit at Frimley Park Hospital. These students raised the most sponsorship money for the Unit following a Year 7 Readathon which took place during the Autumn Term...
We were greeted by June and Geraldine, the Neonatal Ward Sisters, and were told how they were proposing to use our sponsorship money. Their hopes were that it would go towards the purchase of a Saturation Monitor, which helps to monitor the oxygen flow in premature babies and helps the medical staff tell if a baby has stopped breathing.
We were allowed to enter the Neonatal Ward, which was built in 2014, and went into a specific area called Nursery One. Here we met baby James and baby Benjamin, who are twins, who had been born six weeks early; James was a full pound heavier than his brother, but both needed additional support. We went on to visit Nursery Two - this specific ward was for babies in need of intensive care. Within that ward we met baby Amelia who had also been born six weeks early at the weekend and weighed a mere four pounds (1.81 kg). Amelia's father spoke to us about the amazing care the whole family had received as part of the hard work and effort of the Neo Natal team and how much our money was going to help their patients.
Geraldine and June told us lots of interesting information about how the machines work and the routines of the ward; at the time of visiting, the ward was in "Quiet Time" which meant that we needed to whisper and be careful about where to stand and what we touched.
Geraldine and June were not the only employees to talk to us, Frimley Park had asked their Media and Press Team to accompany us around our tour of the Unit. They went on to ask us how we raised the money and what our favourite books were; this then led on to us having our photographs taken. Ella was nominated as the student to demonstrate how the Saturation Monitor worked. We're all excited about seeing our trip as part of Frimley Park Hospital's social media platform!
The trip was full of enjoyable sights, incredible facts and truly memorable moments. We want to say a huge thank you to all who supported Year 7 during their Readathon sponsorship and helped us raise as much money as we did - £1087!!!!!
Joseph, Alexander, Ella, Lucy and Ethan