Collingwood Students Inspired by Authors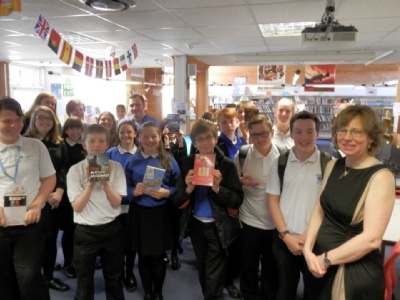 Students and staff at Collingwood have enjoyed two visits recently, from renowned authors Andy Robb and Anthony McGowan.
On Wednesday 21 March Andy Robb engaged in workshops with Years 7 and 8 students. He connected so well with all our students and left them inspired. His final words being "act the words and interest follows", "act your ideas and the words flow", "lay them on paper and others' imagination comes alive". Some students are still talking about his visit and the sense of achievement they felt when he left .
On Wednesday 18 April we were privileged to receive a visit by Anthony McGowan. He led two conferences for Years 9 and 10, two workshops and an informal talk with the student librarians and reading club members. His talks were deeply inspiring and passionate and we had some great feedback from students, teachers and management.
The range of questions that the students asked were very pertinent and thought-provoking.
Anthony explained how his writing was inspired by his childhood, growing up in a rather violent and challenging neighbourhood of Leeds. His books include "The Knife That Killed Me", as well as his latest book "Rook" - when Kenny and Nicky rescue a rook left for dead, Kenny is determined to keep it alive. Nicky doubts the scruffy bird will make it, but then Nicky has plenty else to worry about – a school bully, his first love, and the fact that everything is about to go very, very wrong. Rook has been nominated for a Carnegie Medal.
When Anthony read passages from his books, he portrayed his characters so well and students realised that boring reading was no more! At the end of the lectures, students applauded him. Finally, Anthony answered questions from the students and gave away six books to the students who asked the best questions.
Mrs Teissonniere – Library Co-Manager