Drama Students Watch Performance of 'FUP'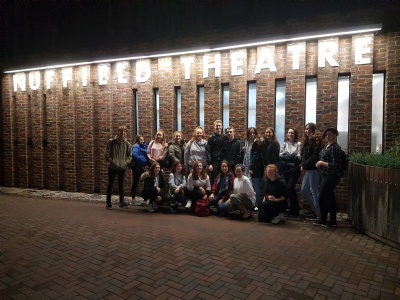 Year 10 students travel to Southampton for the Kneehigh production of 'FUP'.
On Wednesday 17 October the Year 10 Drama GCSE group went to see the modern fable 'FUP' at the Nuffield theatre in Southampton. The Kneehigh theatre production used many epic theatre techniques which we have been learning about, such as music, song, audience interaction, multi-rolling and multi-purpose props.
We were met in the theatre by cast members dressed with party hats on and handing out party poppers. They told us we were at a surprise birthday party! Live music was playing and once the show began there was a countdown and we all shouted out "surprise" to Tiny when he arrived on stage. The stage and auditorium was filled with streamers and celebration!
You may be wondering what 'FUP' is all about. Fup is actually a duck who we came to love. She led a life full of excitement but sadly met a tragic end. Many of us cried and we all laughed a lot. At times we were not sure if we should be laughing or crying.
The key themes of 'FUP' were around family, relationships, moving forward and breaking barriers. The barriers were literally broken at the end of the play when the fence was pushed down and the set collapsed with it, falling in spectacular style. As the set collapsed feathers exploded from the stage and into the audience, covering those of us at the front in Fup's soft white feathers, reminding us of the sacrifice she had made.
We stayed for a Q&A talk with the cast and musical directors which gave us an insight into their rehearsal process, challenges and the puppet training. This was an unforgettable production that we all enjoyed. We cannot wait to see one of Kneehigh's productions again in the future.
Anastasia Kalaboka (10D) / Mrs Valu (Head of Drama Department)