Build-up to Collingwood's Mock Election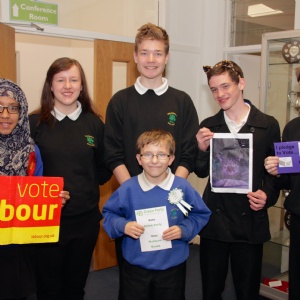 On Thursday 7 May Collingwood will once again hold a Mock General Election
In line with all the usual media publicity concerning the General Election, Collingwood is again organising its Mock General Election, with student candidates representing both national parties, and also some parties of their own.
The co-ordinator of the event, MFL teacher Mr Bunter, addressed all year group assemblies two weeks ago to encourage participation, and this week all assemblies were enlivened by the brave but impressive speeches of the six candidates.
Khadeejah (8D) is standing for the Labour Party, ably assisted by Sally (9A). Jessica (10B) is representing the Lib Dems, with the help of Alannah (10B). We have Matthew (8H) for the Greens, and Harry (10A) for UKIP. As alternatives to these there is Henry (10A) of the Vocaloid Cats Party, assisted by Max (8C), and last not least, Jonathan (10C) of the Quinny's All Stars Party. Remarkably, in the constituency of Michael Gove, no Conservative has come forward to represent the party in this election.
The candidates are calling for the votes of students on Thursday 7 May, with voting at break time and lunch time on that day, with the result being announced at 3.10 pm by Returning Officer Mr Tanner (Co-Principal).
In their own words, here are the reasons to vote for the individual candidates:
Matthew (Green): "We're trying to save the trees"
Jessica (Lib Dem): "Dream your wildest dreams. we'll help you achieve them"
Khadeejah (Labour): "We are the Party for Youth"
Jonathan (Quinny's All Stars): "For a New Vision"
Henry (Vocaloid Cats): "We like cats"
Harry (UKIP): "We're the Party for the People"
The election is very open - too close to call. Which party can get its supporters out to vote? All will be revealed at 3.10 pm on Thursday 7 May. Some other less important election result will be announced later that evening.
Mr Bunter - MFL Department/Mock Election Co-ordinator