Maths Students Succeed in SHAPE Competition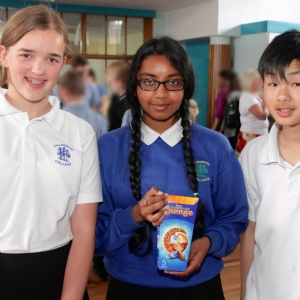 Year 7 team triumph at SHAPE Inter-schools Maths competition on Wednesday 24 June.
On Wednesday 24 June three teams of three students from Years 7 to 9 competed in the SHAPE Inter-schools Maths competition hosted by Kings International College. Nine schools participated in the competition including Tomlinscote, Gordon's, Winston Churchill, Woking High and, of course, Kings.
The competition consisted of three rounds; one included solving Maths problems and using this information to follow a treasure hunt to earn points. The second round was called rolling polygons, which consisted of describing stages of rotation of polygons. The last round was a race between schools to answer the most Maths questions and to earn more points for your team.
The competition was brilliant fun to compete in and was a great opportunity to meet people from other schools. It was a fantastic afternoon and was really enjoyable.
All the Collingwood teams performed well and we are pleased to say that the Year 7 team won their competition and the Year 9 team came third.
Hannah Boast (7D)
All the students enjoyed the event, behaved impeccably and were a credit to Collingwood. Well done to all teams.
Year 7 - 1st Place - Hannah, Harry and Sivany
Year 9 - 3rd Place - Rachel, Chris and Jamie
Year 8 - Valiant Effort - Alex, Rio and Ed
Mrs Howell - Maths Department