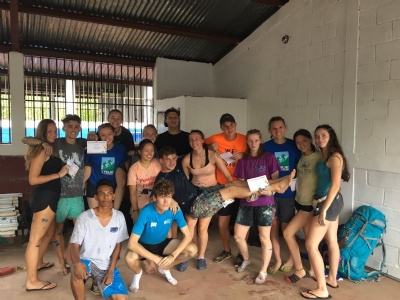 Summer 2017 - Y12 and Y13 students along with Miss Adie and Mr Jarmyn embarked on a trip of a lifetime to Nicaragua.
In the October of 2015 fifteen Collingwood students made their first payment towards our expedition. In July 2017 all of our planning and fundraising transitioned into packing and panicking; and finally we arrived.
Having arrived in utter darkness we were whisked away to our first city: Leon, and slept our first night in a Nicaraguan hostel. Our first full day was one of experiences and planning, calling ahead to our Project contacts and finding out your provider to confirm details of the trek to come. Organising and independent planning became second nature to us all throughout, often booking our own hostels for the group of 18 and choosing our transport between cities. After a day adjusting we took a public bus to the next city where we would begin our first trek. In small groups, and with our lunch budgets in hand, we split off to find the best meal we could in this new city of which we knew very little. Fresh mango from the markets and quesadillas from a bakery provided the lunch we needed to embark on trek very early the next morning.
Our guides, Marlon and Dixon amazed us very quickly by carrying a whole watermelon and pineapple up, and when we reached the top, Dixon revealed his machete and cut it into portions. Marlon told us of his parents and siblings who were involved in the Nicaraguan revolution, his mother cooking for the soldiers and his brothers fighting. We trekked through coffee plantations and farmland until finally reaching our next hostel; run by Dixon's mother. Another day of trekking through an incredible nature reserve was followed by the news that we would be splitting up and staying in the home of a local family in La Corona. We settled down after a tour of a coffee farm and the discovery that the village sell their third tier quality coffee to Nestle and Starbucks, keeping the first for visitors to their base. My favourite day of this trek followed, where we arrived at a waterfall and jumped from rocks into the pool below. The current was strong and the water cold but the experience was like nothing else. That afternoon an optional trek was available where we saw a second, much larger waterfall from below and got completely soaked just standing on a wooden platform below it. Equally as incredible was seeing the very same waterfall from far above having walked to the highest point of the reserve. That same day encompassed some terrifying, knee-quivering paths that led us vertically up a mountain on rotting ladders and using tree roots as ledges. With one foot out of place, who would have known what could have happened! We have no photo evidence as everyone was far too focused on having three points of contact with the ground to take out their cameras!
Safely returned to Matagalpa that afternoon it can surely be said that we slept soundly and organised our own visit to a local, traditional chocolate factory where they spoke with utter disgust at white chocolate! Donned in medical masks and unflattering hair nets we tried our hands at crushing the cacao, now very different from the cacao beans we ate directly from the trees at the coffee farm only days before.
Back in Leon once again for the much needed rest days, we were challenged in two teams to complete a list of activities by the afternoon. We filmed ourselves hugging strangers, getting piggy back rides and making the word Nicaragua out of ourselves, with the help of some American tourists. It was stupid and silly days like this that weren't written into our itineraries that made everyone that much closer.
The next afternoon we embarked on our second and much harder trek. Our walk that evening was cancelled as a result of a wild storm that even our guides were shocked by. Instead, we slept in a wall-less barn and watched fireflies whilst trying to barricade in sleeping bags against all manner of foreign and unnerving bugs. We woke very early the next morning to climb our first active volcano in scorching heat. The next day thankfully brought a stop over in Leon for McDonalds and to restock our supplies and then we set off for Cerro Negro; the volcano we would sand slide down. With the heavy boards attached to our backs we started the difficult, sandy climb to the peak which was made well worth it in the seconds it took to get back down. Two tracks were laid out and we each competed to the bottom, all finishing completely covered in black sand in spite of the full body glamorous jumpsuits! This whole trek consisted of camping overnight in tents which would have been unbearable in the heat had it not been for our total exhaustion. Our final day of trekking began at 1 in the morning with our peak at 5 AM. We sat next to a crater from an incredible view point, eating cereal and watching the sun rise alongside the vast Lake Nicaragua. This was by far the longest and most difficult day - everyone was beyond tired and had been awake for so many hours that conversation was wilting and the end seemed to never come. Even so, the sight of the lake was a beautiful one and sinking into the water after the intense hike was an immeasurable experience.
Transferred next to Granada we faced several problems as a team, from a 3 hour wait for dinner to a suddenly transfer to our project site the next day in spite of plans to stay in the lovely city to recover for a while longer. Taking this all on the chin we immediately started prepping walls and painting as soon as we got there, fully taking into our stride the new living conditions. At project we lived and slept in one classroom shared between all 18; a mess of mosquito nets and (very thin) roll mats. Each morning saw an early start with breakfast provided by local women followed by 4-5 hours of work. In the afternoon the local young children came into the school grounds and we spent hours playing, laughing and trying to communicate with such young children in spite of the blatant language barrier. Interspersed in our project phase was a member of our party's birthday and it was much welcomed. We spent the morning painting, as ever, but were taken into Granada for time to shop and Chloe was given a horse ride round the city, ending at a lovely Irish bar with a buffet that felt like a feast. Back on project we organised football matches on the field and were taught to make bracelets as well as having a salsa lesson. Upon presenting our bubbles, chalk, pens, paper and toothbrushes our new friends were overjoyed - a thoroughly rewarding experience. Even up to our last days at the school we played tag in the afternoons and enjoyed the company of a local man who slept on the grounds overnight. Though his English was minimal we were introduced to many passers by and he was so excited when Josh brought out his guitar and we performed our own rendition of the Harry Potter Mysterious Ticking Noise and a lot of Ed Sheeran, denoting Josh an ancestor of Paul McCartney. Leaving project, although upsetting, was welcomed.
In saving money elsewhere we booked ourselves into a more up market hostel with a swimming pool and barbecue where we ate like champions! Our final days from here were ours to do with what we wished, travelling to the island of Ometepe on a rocky boat. Here there was a second optional trek, with the other choice being the beach. Not wanting to miss out on the views of the trek, a handful of us chose to climb Concecion Volcano. With our impressive speed, we even made it back to the beach in time for a couple of hours swimming under another scorching sun. The trekkers were rewarded with a starter prepared by those who stayed and then moved on to an Italian restaurant with pizzas larger than our faces! Leaving the island the same way we came, we took our bus to San Juan del Sur, a very tourist orientated seaside town. We were lucky enough to be taught to surf by a very, very eccentric man who had been surfing for decades. In spite of his experience, most of us failed abysmally and won't be taking up surfing any time soon. This didn't stop us enjoying ourselves! That evening we attended a tour to La Flor Wildlife Refuge where hundreds of Oliver Ridley turtles climbed out of the waters to lay their eggs. Whilst in their trance we used red torches to watch up close as the hundreds of eggs fell into the hole that had been dug. Our final full day turned out to be one of the most challenging with our first bus never arriving and the second an hour late with one seat less than we needed. Chris, our True Adventure leader, took public transport whilst we climbed aboard and headed back for Granada. We were surprised by our budgeting team with a return to that same lovely hostel with the pool and ate once more at the Irish bar with a huge budget for dinner to celebrate our month long adventure. Waking early the next morning we travelled back to England, almost apprehensive at the thought of being without each other.
Emotional goodbyes were said at the airport and I am sure it is the same for everyone that we will not forget a single moment of our time away. I am so grateful to have had this chance and very proud of us all for raising the money and enduring these conditions. A month is a long time and this was a country unlike any most of us had ever seen before but have come away with a new way to look at the world around us and approach challenges. It was an incredible opportunity with some amazing people and all of us will hold our month in Nicaragua very close to our hearts.
Written by Charlotte To - Y13 student
Further student testimonials are included in the document below.