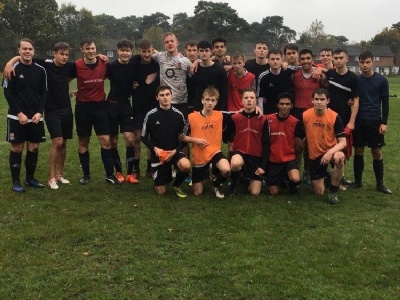 Football V Rugby - 18 October 2017
The first meeting of Football V Rugby resulted in a 7 - 4 victory to Year 13.
The rain did not stop play as sixth form students were out in force to support the first Football V Rugby match of the academic year - a game of two halves, unlike any other.
Year 12 made a promising start with an early goal although this was short-lived as year 13 fought back and with a late goal just before the half time whistle put them 4 - 3 up as they headed in the rugby half of the match. The rugby half is always exciting to watch and this year did not disappoint. Mr Woods stepped in to referee as year 13 showed our year 12 students how things are done and winning the match 7 - 4.