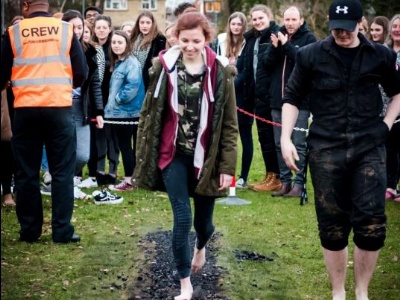 Strong, Powerful & Magnificent
When the possibility of the students of Collingwood Sixth Form firewalking (as in, walking on actual hot coals) was first thrown about, I don't know if anyone believed we would be here in February 2018 doing just that. The ethos which is so engrained into our college of growing and breaking the barriers which are set out for us is an easy one to relay in words, but much harder to do so through action. Errol, the fantastic motivator and organiser from Planit Firewalking, hammered home the message that we uphold in school and worded it perfectly: starting with a positive mental attitude is great, but you have to follow that up with action. Firewalking is a reflection of exactly that.
Staff and students gathered in the common room at 15:05 oblivious to the experience which we would all share in a matter of hours. There was tense laughter as more and more of us took a seat in the circle of chairs and awaited instruction. Any sceptics in the room were muted by the time the first activity was over. With everyone in their own space, Errol encouraged us to turn on the spot and see how far our out-stretched arms would go. A seemingly worthless exercise was transformed as we pictured ourselves breaking the boundaries we had just set out for ourselves and were then able to turn further than we had before. Activity after activity reinforced the message that progress, and overcoming obstacles, has to start with our mental outlooks. We set ourselves limits, and are set limits by others, and the first step to overcoming those is simply the belief that you can.
With everyone suitably entertained and relaxed, half-way through the session saw all of us take a trip outside to be met with the overpowering stench of burning. At this point, it felt much more real as we watched two strips of fire ablaze right there on our own field. Taking it in turn we walked alongside the flames, testing how many steps it would take us to walk on fire. Back inside, seeing Mr Webster recite the self-deprecating mantras that he is "weak", "useless" and "worthless" and then attempt to resist the smallest pressure pushing down his arm was as entertaining as it was empowering that titling himself "powerful", "magnificent" and "strong" suddenly strengthened him tenfold. The hour and a half session had built up all of our confidence, adrenaline and enthusiasm to the point where we lined up, ready to walk. Each person shouted their name and that they were ready for it, and then walked across the coals of 1200 degrees fahrenheit. Everyone was in the highest spirits, cheering on every single person as they firewalked, proving everything we had been taught, and what we strive for as a college, is possible. The buzz and atmosphere on the field afterwards was a testament to the challenge we had all overcome (and was appropriately rewarded with hot chocolate, sweets and a certificate). Dubbed the "experience of a lifetime" by the one and only Nia Clayton, I think it is a sentiment which we all share and would jump at the chance to do it all over again.
Charlotte To - Year 13 Student
---