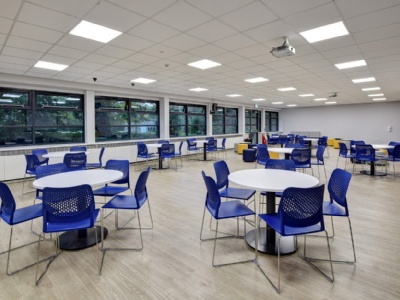 The Sixth Form get a new Common Room
Sixth Form students returned after the half term break to a new multifunctional Common Room - a place to eat, work and socialise.
Flexiform has completed the installation for Collingwood College's 6th form canteen. Designed by their in-house space planning team, the contract furniture installation featured numerous comfortable dining and breakout spaces including soft seating, bar height tables and bench tables in hard-wearing finishes and vinyl.
Reconfigurable Canteen Space
When designing the 6th formers canteen and breakout space, one of Collingwood Colleges' main criteria was to feature a reconfigurable area to allow the use of a retractable screen. Designer Lucie Carr and education specialist Dan Clark pitched the idea of using our One-shot stacking chairs and low stools/pouffes to allow the space to easily transform from group breakout/ dining to rows of seating. All the coffee tables, chairs and pouffes within this space are light and easily movable with the fixed modular sofa at the back designed to suit both set-ups.
With the other half of the canteen, we installed a range of canteen furniture with banquette seating, Ferro industrial style bench tables, One-shot stools and Olé mono-shell tub chairs, carrying through the design in both parts of the breakout space with a mixture of blues, greys and yellows. Each piece of contract furniture was picked for its durability, providing a hard-wearing space designed for students and dining.
This installation took place during the global Covid-19 pandemic, Flexiform went to great lengths to ensure all Government guidelines were followed throughout the project.