12 January 2022
COVID
My sincere thanks to all parents and students for their help in ensuring the arrangements for the Lateral Flow Tests went so smoothly last week. Student participation in the tests was overall 64%, which fluctuated between 60-70% for different year groups. There were 9 positive tests recorded although only 1 was later confirmed via a PCR test.
I do hope that this is the last time we have to start a term in this way but if we do, I will certainly want to prioritise Year 8 and Year 10, who have lost the most days due to these tests, as well as considering other testing arrangements which would keep lost learning time to a minimum.
LFD test kits were distributed to students this week during registration. If your son/daughter was absent at the time of distribution please ask them to collect a box of tests from the nearest reception.
I would also like to thank all students for their mature and supportive approach in wearing face coverings in classrooms and internal communal areas. We have had near 100% compliance with just a few agreed exemptions in each year group.
Government advice which we have been asked to share with parents: Temporary suspension of confirmatory PCR tests in education and childcare settings
Confirmatory PCR testing following a positive result on a Lateral Flow Device (LFD) will be temporarily suspended from yesterday, Tuesday 11 January. This means that for all education and childcare settings, staff and students who have tested (either at home or through ATS) and reported a positive LFD result will no longer be advised to get a confirmatory PCR test.
This change is informed by public health advice. With high COVID-19 rates, the risk of a positive LFD result being false is very small. We therefore don't need to ask people to do a confirmatory PCR unless they:
Have symptoms (in which case they need to follow the stay-at-home guidance, self-isolate and order a PCR test)
Wish to claim the Test and Trace Support Payment
Have been advised to take a PCR test because they are in a clinically vulnerable group
Have been advised to do so as part of a research or surveillance programme.
Education and childcare settings are not expected to trace contacts of a positive case as this will remain the responsibility of NHS Test and Trace. From yesterday, Tuesday 11 January, contact tracing is triggered once a positive LFD test is reported.
Students should be strongly encouraged to test twice weekly at home and to report all results to NHS Test and Trace and to their setting. Anyone with a positive LFD test result should self-isolate and follow self-isolation guidance.
Information on the new arrangements can be found in the stay at home: guidance for households with possible or confirmed COVID-19 infection.
Parents' and Option Evenings this Half-term
I can confirm that all the Parents' Evenings and Options Evenings this half-term will all be run remotely. I know that this is disappointing for those events where clearly face-to-face interaction is preferable, however I am sure all parents will understand the need for this decision given the national and Surrey situation in terms of significantly increased numbers of people with the Omicron variant.
Exams 2022
You may be aware following the recent consultation by Ofqual (the exams regulator) and the Department for Education (DfE) that it is clear that exams are expected to go ahead as planned in 2022. However, to ensure contingency plans are in place schools have been asked to plan and prepare for the possibility of determining grades using a Teacher Assessed Grade (TAG) approach similar to that used in Summer 2021.
At the moment, we expect exams to go ahead as normal, but would like to share what we plan to do if examinations are cancelled due to the COVID-19 pandemic. The Ofqual guidance is that schools should follow their internal assessment programme and I am delighted to confirm that students in Years 9, 10, 11 and 13 sat internal assessments under examination conditions with external invigilators during the Autumn term and that the external exams have gone ahead this week. The feedback has been very positive from staff about the students' work ethic and application and all these year groups are scheduled for a second round of assessments in the Spring term.
For now, students should continue with an attitude of 'business as usual', completing courses, finishing NEA and coursework, and revising for the Spring exams. We expect to hear in the Spring term whether the Summer exams will go ahead. Should they be cancelled, Ofqual have advised that we should introduce a third round of internal assessments at the start of the Summer term. These results, together with any non-examined assessment (NEA) and data from the Spring and Autumn assessments, could be used to determine Teacher Assessed Grades (TAGs) for students.
The assessment timeline below shows how we will proceed for the rest of the year: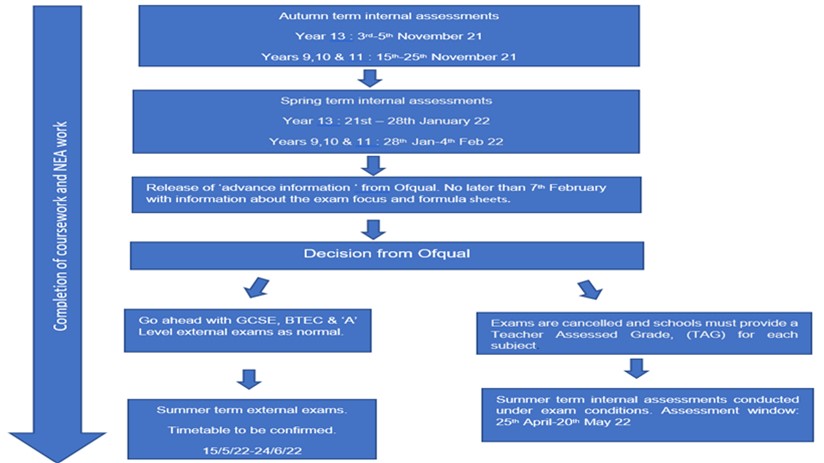 We will of course, keep you informed as information is released and we will continue to support all our students to achieve their personal best.
Mr Tanner - Principal