Years 8 and 9 Students Ski in French Alps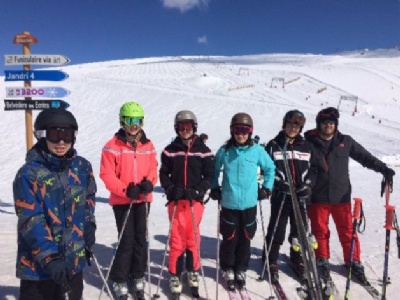 The Years 8 and 9 Ski Trip to Les Deux Alpes during the Easter break was a huge success!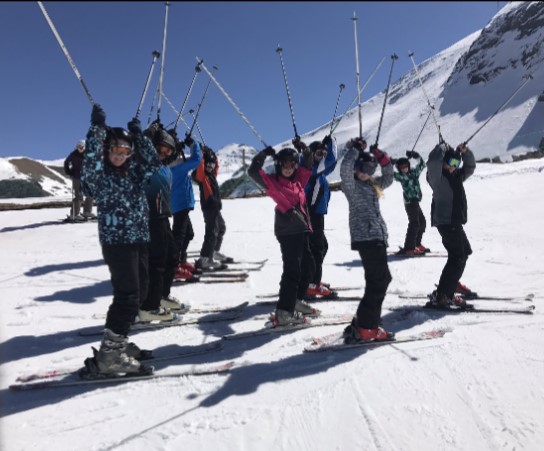 38 students, girls and boys, enjoyed a week of Spring skiing in one of France's most popular glacier skiing resorts at this time of year. Despite ever increasing temperatures during late March, early April, Les Deux Alpes continued to offer amazing opportunities for skiers of all abilities. Dry and slushy nursery slopes meant our beginners had the excitement of starting their lessons higher up the mountains and were already practicing small jumps on Day 2. The advanced skiers were led by a very experienced instructor and had the privilege of experiencing rocky off-piste skiing.
Learner jacket nominations and Donkey T Shirt awards were all taken in good spirit with some hysterical stories about skiing mishaps on the slopes. Staff commented on how well our Years 8 and 9 students got on in the evenings, having fun with a range of Apres Ski activities such as a Quiz, Games Night, Ten Pin Bowling and Ice Skating. Families staying at the hotel and the hotel management complimented our students for their behaviour in the hotel and around the resort, with the hotel staff saying that we were one of the easiest groups they had had in that season. Thankfully we returned with no injuries and the goggle marks from a week of sunny skiing weren't too bad!
A wonderful week of skiing with a smashing group of Collingwood students.
Massive thanks to those members of the admin department who spent hours tirelessly co-ordinating the trip and those fantastic members of staff that gave up part of their Easter holiday to come on the trip.
Next year's Years 8 and 9 Ski Trip is already scheduled to go to Serre Chevalier in France, next Easter and there are plenty of spaces available for any students interested in going.
Please ask Mrs Fuller in Barossa Reception for details.
Mr J Beer - Head of PE Department/Ski Party Leader