Sports Day 2018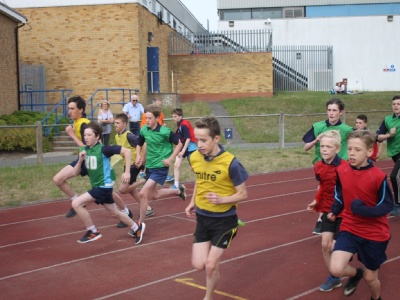 On Wednesday 13 June, once again, the Bracknell John Nike Athletics Track played host to the annual Collingwood College Sports Day.
Over 200 Key Stage 3 students descended on the track to represent their form groups, compete against each other and attempt to beat long standing school records.
Managed by a team of Year 10 Officials, the track and field was poised to be lit up with performances by our many talented students.
With the weather on our side, our students did just that. An exceptional evening of outstanding performances, competitiveness, support for one another and determination.
Special mentions to Joseph Handley 9K for his new school record of 29.51 m in the Year 9 Boys' Discus and to Maya James 9G with her new school record of 25.96 m in the Year 9 Girls' Discus and to Madeline Clifford of 7D who broke a school record with 05:21.8 s in the Year 7 Girls' 1500 m. Huge achievements. Well done!
A massive congratulations to all participants and all winners. Results will follow next week once all the information has been collated and confirmed.
The PE Department would like to thank all those that gave up their time to participate, the admin team for co-ordinating such a complicated event and to all the parents and carers that encouraged such high amounts of participation from our students.
Mr Beer - Head of PE Department