Status Racing News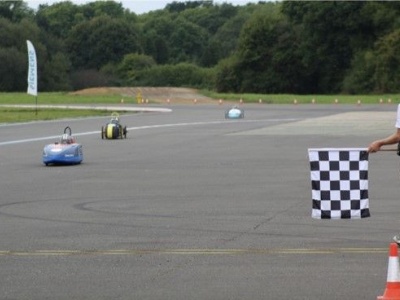 Our Greenpower team gear up for the final with a practice race at Dunsfold Park.
On Saturday 8 September the Status Racing Team travelled to Dunsfold Park race track for our last race before the final. After our car passed scrutineering we began practice. The MK3 car was running very smoothly and we managed to complete practice quite quickly with no mechanical issues.
After we changed the batteries and prepped the car for Race 1 we got out onto the grid for a slightly delayed race. Sadly, a red flag half way through the race meant that all cars had to stop and line up on the grid again, which resulted in it being impossible to get a distance record due to 10 minutes being lost.
Luckily though, our good distance from the previous race at Goodwood means that we are guaranteed a place at the final. Other than the delay, the race went very well, and we managed to make second place.
The second race didn't go quite so well, as around 20 minutes into the race the car spun out on the sharpest bend. Luckily, even though the car was facing in the wrong direction at the side of the track, the driver was able to turn the car safely back onto the track and continue with the race. What we didn't know until our first driver change was that the front left tyre had a puncture which meant we had to take the car in to switch the inner tube. While changing the inner tube we also switched out the gearing for a faster ratio to help us make up for lost time. When we got back out onto the track we were all the way down to 36th, but we managed to get some fast laps and get back up to 13th place; a very respectable position considering we were off the track for 25 minutes of a 90-minute race.
A big thanks to all the team for helping on the day and Mr Winter for giving up his time to run the club.
Aaron Gibson - 9K