Local Schools Attend STEM Days at Collingwood College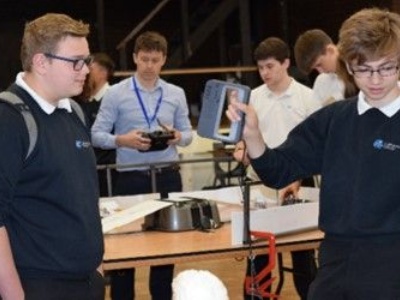 Collingwood College hosted two very successful STEM Days in July, which were attended by local Primary and Secondary Schools.
The days were organised and hosted by Mrs Puri from the Science Department with support on the two days from Mrs Kaur and Dr Fergie-Woods.
The Science Department also provided hands-on activities with their Eco Garden, which were supported by Ms Ellis and Mrs Moreton. The Maths Department (Miss Loversidge) and Technology Department (Mr Winter, Mr Thomas and their Robotic Team) also accompanied on both days.
The days were very popular, particularly with the Primary students who had a special surprise visit from Birds of Prey. On both days, different STEM Ambassadors joined the event to showcase their work in industry and how STEM links directly to their classroom education. Some of the representations were from the Army, IET, Wood PLC, NESCOT, Eagle Heights, Turn Town, Peripherals, IT and BAE Systems Submarine. Each industry had their individual stall with lots of engaging and interactive activities.
The students enjoyed both days and provided very positive feedback as they related to how STEM subjects were been used in industry. The following Primary Schools attended the event: Mytchett Primary School, Lakeside Primary School, Holy Trinity CofE Primary School, The Grove Primary School, Ravenscote Junior School, Hammond School and Cordwalles Junior School.
The Secondary schools that attended the event were Collingwood College, Bishop David Brown School and Kings International College. I am pleased to say that two of our School Governors (Mr Zymela and Mr Garrett) also attended on both days.
Mrs Puri - Science Innovation and Achievement Lead, STEM Co-ordinator