Staff and Students Celebrate British Science Week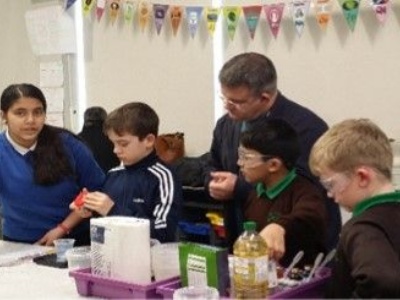 Collingwood College organised and hosted the British Science Week on behalf of the Science Learning Centre on Wednesday 12 February.
The event was hosted and delivered by Mrs Puri and was open to Primary and Secondary School teachers to attend in order to obtain ideas and resources for their own schools. The aim of the evening was to address how to raise the profile of Science and STEM across the school, widen students' experiences beyond the classroom and opportunities for cross curricula, and to build on practical activities for hands-on learning.
The event was attended by Primary and Secondary school teachers. Several students from Crawley Ridge Junior School also attended the event, accompanied by their parents. The students and teachers really enjoyed the evening and took part in different hands-on activities from making bath bombs, revealing fingerprinting on different materials, Don't Tip the Ship to creating astronaut hovercrafts. The evening also helped to develop students' problem-solving, team-building and communication skills.
The students were a credit to their school and demonstrated good understanding of Science.
These are some comments made by the teachers and students on completion of the event.
Students comments from 'Crawley Ridge Junior School':
"I loved the activities and I now understanding how detectives use finger printing."
"I really enjoyed the hovercraft activity and want to be an astronaut when I grow up."
Teachers comments:
"Thank you very much for the presentations and yesterday's event. I learnt a lot about STEM and crest awards." Celine Heeney - Gordon's School
"Thank you for yesterday; it was interesting to see the children engaging with the activities." Sarah Philips - Frimley Junior School
"It was really useful watching your presentation and talking to you! " Jordan Smyth - Yateley Manor School
Mrs Puri - Science Innovation and Achievement Lead