Important Update: College closed from end of day Thurs 19 March.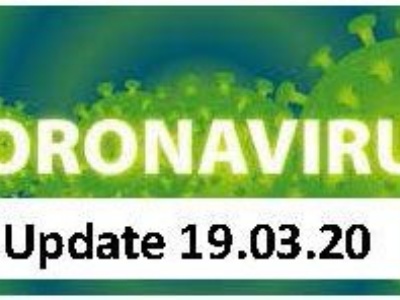 Please click here to access Work for Students.
Thursday Update
You will be aware of last night's announcement by the government of the closure of schools as from the end of the day tomorrow. The announcement also covered other issues such as the need for schools to provide provision for the children of key workers and students with an EHCP or social worker. We are still awaiting the definition of 'key workers' and once this is clarified we will be in contact with parents and carers to establish need and to inform you of our arrangements. The significant announcement regarding the cancellation of examinations for this academic year has had a significant impact on students and staff especially regarding the lack of clarity so far on the alternative arrangements that will be put in place to make sure students receive the grades they have worked so hard to achieve. I spoke to all Year 11 this morning at a special assembly and we will speak to all Year 13 tomorrow afternoon to reassure them that the College will do absolutely everything it can to ensure no individual is disadvantaged due to this government decision.
Staffing Situation
Today we had 33 teaching staff and 16 support staff absent from College which is an increase of 8 teaching staff and 4 support staff from the previous day. These absent staff are correctly following government advice. Student attendance was approximately 50% over the 5 Year Groups in College today and the high number of student absences represent those that are self-isolating as well as a number taking precautionary measures due to underlying health issues. I can confirm that we still have no confirmed cases of Coronavirus.
My stance is always to try to keep the College open as far as possible, however given the significant number of staff currently absent and the fact that, based on the last few days, between 5-10 staff may be added to this list tomorrow, I have regrettably come to the conclusion that the College will be closed to all Year Groups tomorrow, Friday 20 March. I have to ensure that the College is a safe and secure environment for students and staff and with the likelihood that over 50 staff will be missing tomorrow, I cannot be confident that this is the case. My sincere apologies for the impact that this decision will have on you but the health and safety of everyone must be my priority.
Therefore the only students in College tomorrow will be:
Those students in Year 11 and 13 who require further advice and support and who wish to speak to pastoral or subject staff;
Students whose parents and carers work for essential services such as the NHS, the Police and the Fire Service, and in care homes. In such cases please contact your Year Manager to identify if your child fits into this category and if you are planning on sending them into College. We are using our original definition for tomorrow whilst we await further details from the government. Do also contact your Year Manager if you are not in these groups but feel you will be in the soon-to-be published groups and we will do everything we can to accommodate your child.
Students who have an EHCP or social worker - please can I ask parents to contact the SEN Department, if you have not already done so, to discuss arrangements.
Requests for Work at Home
Students will have received e-mails from our staff as to how they can access work to complete at home.
In my many years in teaching I do not remember a time of such uncertainty and worry. I am indebted to the support from the outstanding staff at Collingwood, our fantastic students and to the parent body who have been so understanding of the very difficult situation we have been dealing with.
I will be in contact with you again tomorrow to give you further information on a number of issues and to pass on any additional guidance from the government on the issues outlined above and the government's provision of vouchers for those students entitled to free school meals.
Mr E Tanner - Principal