Local Author Visits Year 7 Students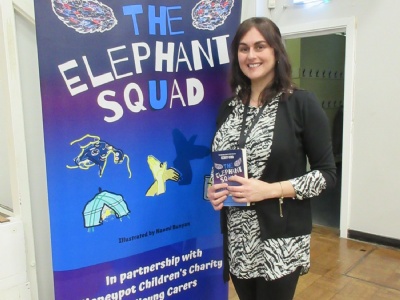 On Wednesday 22 February, our Year 7 students had the pleasure of a visit from Kerry Gibb, a local author from Camberley, who has written six books so far.
She presented her book, 'The Elephant Squad', a beautiful and moving story following the lives of four students in primary school who are all young carers.
This story will open your mind to the hidden world of young carers as well as themes of friendship, resilience, courage, denial and the misunderstanding of someone else's situation.
Kerry's energetic style of writing navigates the readers from humour and laughter to poignant and sometimes tearful emotions on the same page.
Throughout her talk, Kerry read three different passages of her book and explained how the book came to life. The talk was followed by a range of questions from our Year 7 students that lasted nearly half an hour. The quality of the questions was astonishing and showed that our students had listened with interest and were keen to know more about either Kerry's passion for writing or young carers lives. The questions ranged from : Where did Kerry get her inspiration from? to How does one know if they are a young carer?
Kerry has a natural ability to capture her audience and open the conversation to some sensible debates. Her visit definitely complemented the PSHE curriculum being taught at College.
At the end of the event, students were reminded that if they had any concerns or would like advice regarding topics covered during the talk, any member of staff present would be able to help and guide them to the right person for answers.
We highly recommend reading this book. It could also be used as a family read that will definitely engage youngsters and parents into interesting conversations.
The Elephant Squad and all the other books from Kerry Gibb are available to view via the link below:
The Elephant Squad - (kerrygibb.com)
Mrs Teissonniere and Ms Blay - Library Co-Managers