Year 9 Boys Crowned District Champions!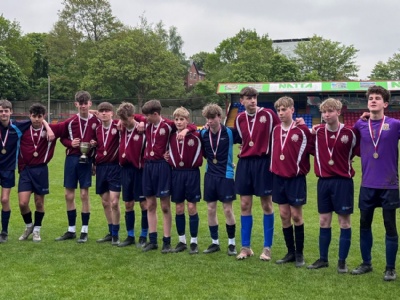 The Year 9 boys' football team overcame a spirited Frogmore Community College to be crowned District Cup Champions.
Having navigated our way to the final, knocking out last year's winners and runners-up, our expectations were higher going into this final against a strong Frogmore Community College side.
It was a gritty first 25 minutes with both teams coming close to opening the scoring. A string of saves from Josh Edwards kept us in the game whilst Alfie Moult's pace and skills were causing all sorts of problems for the opposition's defence. Up steps Dan Wearden, put through by a simple ball over the top. Dan was in full flow attacking the left back whereby he drew a tackle and skipped past before firing a shot low and hard down to the keeper's left putting Collingwood 1-0 up at half-time.
The team were fired up at half-time, desperate to prove they were much the better side. An early run by Alfie, again probing the defence, saw him turn the opposition's right back and Alfie was in on goal at a tight angle which saw his shot saved and cleared. However, this clearance was picked up by Dylan Hosali who guided his shot past the keeper to make the score 2-0.
At this point we were flying, with further goals from set pieces by Max Walker and Dylan Hosali putting Collingwood into a commanding lead.
Frogmore did manage a consolation goal through a fine strike by their left-winger.
Final score Collingwood 4, Frogmore 1.
Squad: Josh Edwards, Reece Barnett, Taylor Robson, Aidan Crane, Cavan Millham, Dan Wearden, Dan Crane, Dylan Hosali, Ryan Weston, Alfie Moult, Chase Robinson, Thomas Praine, Finn Wedick, Harvey Butterfield, Jack Chandler
Many congratulations to the whole team. A fantastic achievement!
Daniel Wearden (part of this Year 9 Cup-winning side) also featured in the Surrey Schools county side this season. Daniel played at the Stoke City Stadium in the ESFA cup final the day after lifting the Cup for Collingwood. However, despite his and the county team's best efforts they were not able to find a way past a strong and determined Northumberland side.
However, this set back did not deter Daniel and the Surrey side from bouncing back from this loss with a 6-1 win again Sussex in the South East England County Cup Final a few days later - which also saw Daniel grab a goal.
We are all extremely proud of what Daniel has accomplished so far.
Mr Jarmyn - Year 9 Football Manager/Year Manager