Ex-Student (Children's Author) Visits Year 7s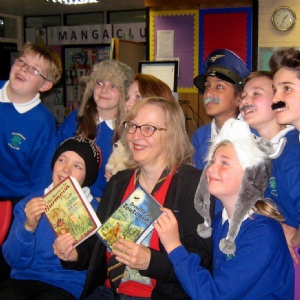 On Friday 16 October ex-Collingwood student, Susan Imgrund (children's author), visited our Year 7 students.
I was delighted when former Collingwood student and children's author Susan Imgrund (aka S P Moss), contacted me to ask if she could come back to visit Collingwood.
Susan currently lives in Germany but still has family in Camberley. She wanted to talk to the Year 7 students about her time at Collingwood in the 1970s and also about her inspiration to become an author.
On Friday 16 October, she ran workshops for the Year 7s in the Library where she explained what Collingwood life was like in the 1970s and how things have changed. In her day, school dinners cost 12p and her school uniform was red.
She introduced her latest book, "Trouble in Teutonia", which involves time travel back to the 1950s. The students enjoyed acting out scenes involving evil Counts and menacing wolves. It was great fun travelling back in time and we look forward to another visit one day.
Miss Jenner – Head of Key Stage 3 English - described the event as "a wonderful experience for the students to learn more about the writing process and a unique opportunity which nurtured the students' love of reading."
Mrs Reid - Librarian