Generous Contributions for 'Stockings for Heroes' Campaign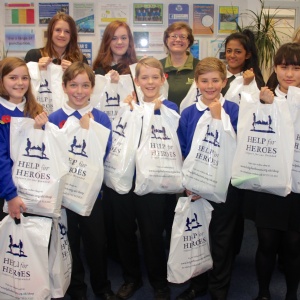 Thanks to you all for the generous support for the 'Stockings for Heroes' campaign.
Many thanks for your support for our endeavour to spread some Christmas cheer to our injured armed forces personnel. We have had an incredible response and I am certain we will have made a big impact on the national campaign!
It is always good to see our youngsters engage in projects such as this as it helps raise their awareness of the difficulties that other people have and how, by contributing a little, we can make a big difference. Many students completed a donation card in remembrance of a WW1 soldier. This again reflects a small sacrifice for the service of others in order that we have a positive impact on society. (Active commemoration – Society, Sacrifice and Service).
The donations will be taken down to the Camberley H4H shop on Thursday from where they will be sorted and distributed. Thank you again.
Miss Eaton - Senior Assistant Principal