Former Arsenal Vice Chairman Visits Collingwood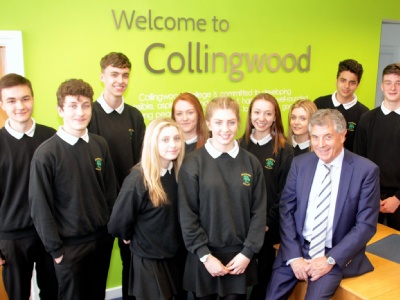 David Dein speaks to Years 11 and 12 students as part of the 'Speakers for Schools' programme.
On Thursday 14 April the College was extremely fortunate to have the pleasure of welcoming Mr David Dein to speak to some of our Years 11 and Year 12 students as part of the 'Speakers for Schools' programme.
Mr Dein joined the Arsenal Board of Directors in 1983 and was made Vice Chairman in the same year. During the following years he also rose to Vice Chairman of the Football Association and has since served on numerous UEFA and FIFA Committees.
He was the key man who had the foresight to bring Arsene Wenger to Arsenal in 1996. During David's reign, the Club won 18 trophies!!
David was also an early proponent of women's football having been President of the hugely successful Arsenal Ladies Team and was a leading force behind the increasing popularity of women's and girl's football.
Probably his most significant achievement was that he was an instigator in launching the Premier League in 1992.
The Daily Mail recently published a list of the 50 most influential people in the history of the Premier League and David Dein was in the top ten with the likes of Sir Alex Ferguson.
These days he spends much of his time speaking in schools and prisons as well as businesses – he recently spoke to students of the world renowned Harvard Business School in Boston. So the College was very lucky to welcome Mr Dein on Thursday.
During his hour long presentation he told the students about his aforementioned background at Arsenal, in the Premier League and with women's football. He spoke about how the Premier League is now big business and of the revenue generated at this top level.
He recounted some wonderful anecdotes about his experiences travelling the globe – he even left us with a can of disappearing 'free kick' foam that is widely used by referees across the world. Whilst all of his stories and anecdotes were football or business related he left the students with some key messages regarding how they should pursue their dreams and goals in life. He spoke about hard work, having the right attitude and how the team is always stronger than the individual. But most importantly and probably the thing that most of the students remember is his motto of living life like a tortoise. He said that you have to stick your neck out to be a success. An example of which was when he took a gamble in sending a blank cheque to Arsenal to buy up the unsold shares in the club. If you check Wikipedia you will see what that gamble earned him when he sold them 9 years ago.
We look forward to many more inspirational speakers coming to Collingwood as a part of this scheme.
Mr Cleary – Assistant Principal