Students Gain Spanish Football Experience in Madrid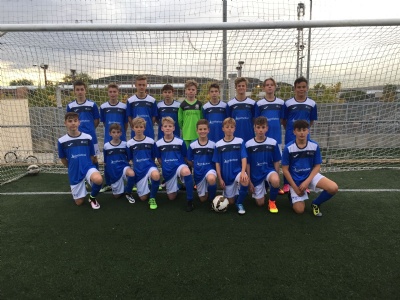 Years 9, 10 and 11 students reap the benefits of Spanish football and culture.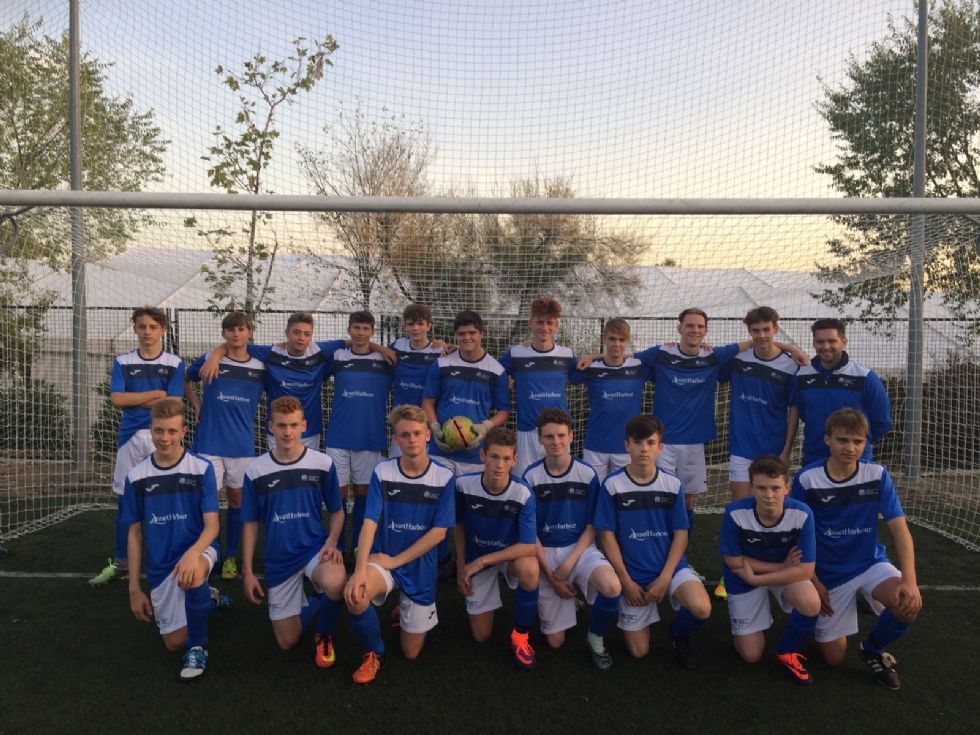 On Sunday 23 October 70 students from Years 9, 10 and 11 descended on Heathrow Terminal 5 for a five-day football tour to Madrid, Spain. All the students and staff looked incredibly smart in their touring kit which was kindly sponsored by Asset Harbour, Camberley.
After our short flight we were met in Madrid by our tour rep, Jorge, who was a constant source of knowledge throughout the week earning him the nickname 'Fountain!'. After a short drive to our hotel the boys settled into their rooms, had dinner and were soon in bed ready for the next day's activities.
Day 2 started how any Football Tour should start with some retail therapy at the local outlet shopping centre. The students were very quick to descend on Adidas, Nike, Ralph Lauren, etc. to spend some Euros, needless to say there were some very interesting choices of football boots bought! After shopping we were soon off to Real Madrid's state of the art training ground for the boys first training session.
As we arrived the looks on the students faces said it all! We were shown to our own personal changing rooms and the boys were soon
changed and ready for action. Group 1 were very fortunate to have an ex professional Real Madrid player who played under Jose Mourinho coaching them and he certainly knew his stuff! Groups 2 and 3 were also in the hands of some very experienced coaches and they were certainly learning every minute they were there. The boys were put through their paces with drill after drill and the staff were there taking some furious notes to bring back to College. After training the boys headed back to the hotel for lunch and rest ahead of the first night's games.
The teams were at different venues for the first games and boarded their coaches for the journey in full tracksuits looking very professional. Team 1 (Years 10 and 11) came up just short in their first game losing 2-0 in a very well contested game. Team 2 (Years 10 and 11) and Team 4 (Years 9 and 10) came up against some strong opposition and ran out on the losing sides but the teachers in charge were very impressed with attitudes and commitment throughout despite the results. Team 3 (Year 9) were the only winners on night one with a comprehensive 9-0 win (Goal scorers Jakob Carl 5, Kyle Odendaal 3 and Joe Terry) playing some excellent football. All the boys took a lot away from these first games against international, skilled footballers.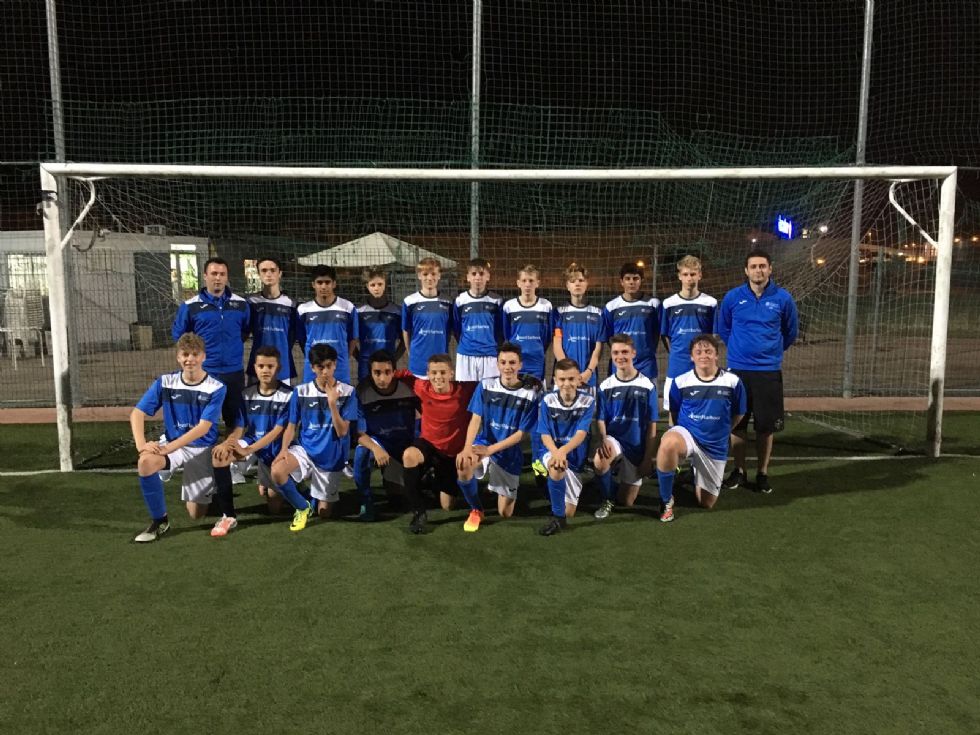 Day 3 began with all the boys in high spirits as we were on our way to Paintballing and for some reason the students were very keen to go up against the teachers! After arriving at our venue Mr Andrews pulled out the Army paint which the boys duly plastered all over their faces . With overalls on and looking the part the boys went into action playing numerous different scenarios over a couple of hours.
This was followed by the annual 'best bruise' competition and it's fair to say there was a lot of competition for this award! We then headed back to the hotel for lunch, a quick shower and change ready to go back out again to the ladies England game.
Fortunately, on our day of travel to Madrid I had seen that the England ladies team were also heading to Madrid to play Spain in a friendly game. We were straight on the phone to Jorge who managed to arrange tickets for us to go and watch in Guadalajara. On our arrival it was very clear we were going to be the only English support that night, but boy did the students make themselves known!
Throughout the game the boys made up chants for all the England ladies and each chant was met with a wave of thanks. We witnessed a fantastic game with England running out 2-1 winners. Highlights of the night were the Year 11 chants and also all 70 students and staff chanting 'Adios, Adios' to the Spanish fans as they left the venue!
On our arrival back to the hotel it was a quick dinner and then time for Mr Eaton's quiz. This was a lively affair with all students and staff taking part. There were some very interesting questions and also some dubious ones but a very enjoyable experience was had by all.
Day 4, while updating our PE Twitter account (@CollingwoodPE), we were very fortunate to receive a tweet from Steph Houghton MBE (England and Manchester City Ladies Captain) and also Lucy Bronze (Manchester City and England) thanking us for our support the previous night. After breakfast we were off into Madrid city centre to do a bit more shopping and experience Spanish culture. Madrid was a beautiful, clean city with plenty of shops to keep the students entertained.
After a couple of hours, it was back onto the coaches to Real Madrid's training ground for our final training session. Once again the boys outdid themselves with their attitude and commitment to training, listening intently to their coaches instructions.
It wasn't just the students taking part, staff were also seen trying to impress the coaches! After training the boys had photos taken with their coaches and then it was back to the hotel for lunch. After an hour's rest we headed out to our final games of the tour. Teams 2 and 4 headed to the same venue and unfortunately finished again on the losing sides but acquitted themselves very well. Some students had never experienced a competitive football game and the smiles seen back at the hotel proved how much they had enjoyed the experience. Teams 1 and 3 also headed out together. Team 3 came up against a very good footballing side and for the first 10 minutes didn't touch the ball! But after a few swift instructions from the dugout by Mr Andrews and Mr Cleary they soon found their feet and started to play. The boys ran out 4-0 winners (Jakob Carl 2, Charlie Hawes and Alex Emery) which they certainly deserved. Team 1 also ran out 2-0 winners (Jake Hughes 2) with a fantastic performance from all the students. Mr Beer and Mr Ruffles couldn't praise the boys highly enough for their efforts and attitudes throughout the tour and were delighted for them.
Day 5, the final day and we had definitely saved the best till last. After packing up our suitcases and checking out of the hotel we were off to the home of Real Madrid, Santiago Bernabeu. On our arrival we were straight into the stadium and sent up the stairs. After climbing numerous flights, we arrived at the top of the stadium to look out over the famous pitch. The boys' reactions were priceless; cameras couldn't come out quick enough to take those all-important pictures.
We then proceeded into the museum where the history of Madrid was shown in all its glory. In the museum there was memorabilia from Ronaldo, David Beckham, Zinedine Zidane, Raul, Roberto Carlos, Michael Owen and the list goes on. The highlight of the museum was La Decima which highlighted Real Madrid's 11 Champions League victories with all the trophies side by side in a cabinet.
From the museum we continued our tour of the stadium. Highlights were sitting in the dugouts, being pitch side and visiting the changing rooms. Following the tour we visited the club shop to spend those final few euros before heading back to the hotel. We then had a couple of hours to relax and hold our traditional presentation ceremony. There were numerous awards given for Best Player of each team, Best Attitude, Most Improved Player, Goal Scorers, Manager's Award among others. This was a great final event to complete the tour.
I always struggle to sum up these Football tours as, when speaking to each student, they all have different memories and highlights. For me this trip was truly memorable. We managed to pack so much in to give the boys the best week possible. These trips are all about student development and experiencing other cultures. The England v Spain ladies game was a particular highlight for me as we have never managed to watch a game on tour before, as well as watching the students develop over the week. These trips bring out the characters of students we don't always see, which is great to witness.
I cannot run these trips alone and therefore I must thank Mr Beer, Mr Collins, Mr Eaton, Mr Cleary, Mr Chauhan, Mr Jarmyn and Mr Ruffles for giving up their half term to accompany myself and the students. My final thanks must go to Mrs Moody who spent hours and hours making sure everything was in place for this trip to run as smoothly as it did.
Mr Andrews - Tour Party Leader