Brilliant Performances from our Year 7 Rugby Boys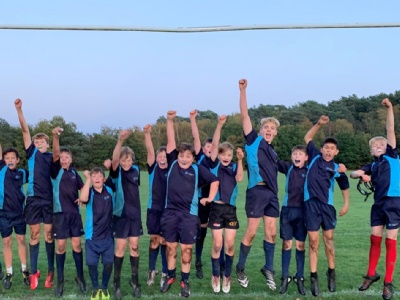 Team plays superbly against Tomlinscote and at district tournament.
On Thursday 3 November our Year 7 Rugby team played Tomlinscote away and beat them 8-4 in tries. This was a superb performance by all, but notably Vinnie Allen as, although a beginner in Rugby, is a complete natural!
On Tuesday 8 November the boys played a district tournament and beat Salesian College (Farnborough), Winston Churchill, Woking High and Heathside, only losing to Salesian School, Chertsey (1-0). The development of the boys has been incredible after such a short period of time.
There were some brilliant performances that evening, but especially from Will Harris and Ollie O'Brien, linking well to move the ball wide.
Team: Josh Alford, Vinnie Allen, Arran Baillie, Connor Barnett, Edward Carroll, Jace De Jager, Elliot Edge, Theo Gibson, Thomas Lee, Sam Murphy, Ollie O'Brien, Brendan Fitzpatrick, Sean Stevens, Reid Lewis, Harry Phillips, Will Harris