Girls' Footballers Play Magnificently at School Tournament!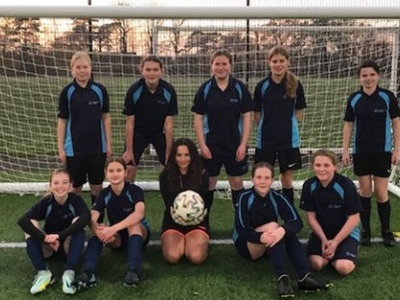 On Wednesday 30 November the girls travelled to Winston Churchill School to take on 9 other local schools.
On a chilly night the girls were magnificent throughout. They played some fabulous football with all members of the squad at some point shining with either a piece of skill or just some good old-fashioned hard work.
Undefeated in our pool games the girls demonstrated that they had lots of skill to go with their hard work. Difficult games against all but Kings were played with a real desire to do well. In our semi-final the girls showed that they could deal with the pressure of penalties with 7 volunteers for our 3 penalties! All were dispatched but did cost us Eden for the final with an injury celebrating her powerful shot to win it.
The final was cagey, we had our chances, their keeper pulling off at least two great saves, and they had a bit of luck with a deflection landing at the feet of their striker. With more time I am confident we would have gone on to win, but 6 minutes is so short.
It would be wrong to pick out a player of the tournament as every girl played and contributed in every game (something I was very proud of considering they were 6-minute games!!).
Needless to say I am grateful that they were so cheery and supportive of their team mates – I enjoyed spending some time with them. A thoroughly nice bunch of girls. They were/are a credit to the College and themselves.
Results:
Pool
St John the Baptist - Won 1-0 (Eden Jolly)
Winston Churchill - Drew 1-1 (Eden Jolly)
Kings - Won 5-0 (Lottie Kemp 2, Beth Evans, Shauna Kavanagh 2)
Chertsey High - Won 2-0 (Shauna 2)
Semi-final
Fullbrook - Drew 0-0, Won 3-2 on penalties (Lucy Mallon, Lottie Kemp, Eden Jolly)
Final
Hoe Valley - Lost 0-1
Squad: Ida Cook, Beth Evans, Evie Green, Amelie Hannah, Eden Jolly, Shauna Kavanagh, Lottie Kemp, Liv Kendall, Lucy Mallon,
Ros McCartney
Mr San Emeterio - PE Department/KS4 Progress Leader