Super Year 7 Girls Play at Twickenham Stadium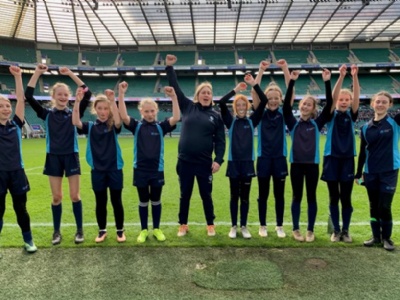 On Thursday 16 March our Year 7 girls' rugby team travelled to Twickenham Stadium to compete in the English Schools finals day.
The girls visited the museum first to soak up the history of the sport and try some interactive rugby fitness tests. They got to see the world cup too!
The girls were privileged to be able to play on the hallowed turf of HQ which I was very jealous of! All the girls played their first ever game of contact rugby and won 10-4. Stand out performances were Zoe Lampard scoring 5 tries and Tilly Collins making exceptional tackles as big players ran at her. They have shown so much ability and the opposition PE teacher was really impressed that they all had not played before. Girls rugby training sessions will return after the summer break.
Cracking performances from everyone!
Team: Lily Bond, Sophie Evans, Tilly Collins, Amelia Bright, Zoe Lampard, Briony Stevenson, Elizabeth Hardy, Aoife Hollis and Chloe Edwards.
Miss Robinson - PE Department