Hollycombe Steam Trip for Applied Art Students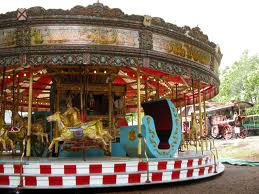 A group of Year 10 and 12 Applied Art students visited Hollycombe in Liphook in September to take photographs and sketch the beautiful Victorian fairground rides and steam engines.
We were fortunate to have the centre to ourselves and the Art students thoroughly enjoyed recording the superbly decorated machines, in what is the largest traditional fairground in Britain.
The centre is set in a beautiful part of the Hampshire countryside and we can strongly recommend a family visit to this fascinating centre.
Student comments:
Hannah Munslow - "It was lovely to see what fairgrounds looked like years ago, the patterns and paintings on them were both beautiful and interesting".
Brydie Young - "It was really great to actually go and see the place we will be creating a piece of artwork for. Seeing the rides close up was really fun".
Bex Clay - "We got to take plenty of pictures to use in our coursework. It was very helpful to actually see the place in person".