International Links
Collingwood College – An International School
Collingwood has continued to be the proud possessor of the International School Award, recently re-accredited with the Full Award for 2014-2017. This is an Award given by the British Council to recognise those British schools which foster International Ideals amongst their schools' communities.
In the past year the College has continued its mission to broaden the international outlook of students, staff and the entire Collingwood community.
It is worthwhile reminding ourselves of the Award's five Global Themes; these are very noble ideals, which the many activities we do in Collingwood aspire to uphold:
Conflict and Peace
Sustainable Living
Rights and Responsibilities
Fairness and Equality
Identity and Belonging.
For the last ISA submission Collingwood engaged in nine major international processes and activities which we know echo these ideals, and give a good overall view of how International the outlook of the College is. These activities have also reached out to at least one of our feeder schools.
CHINA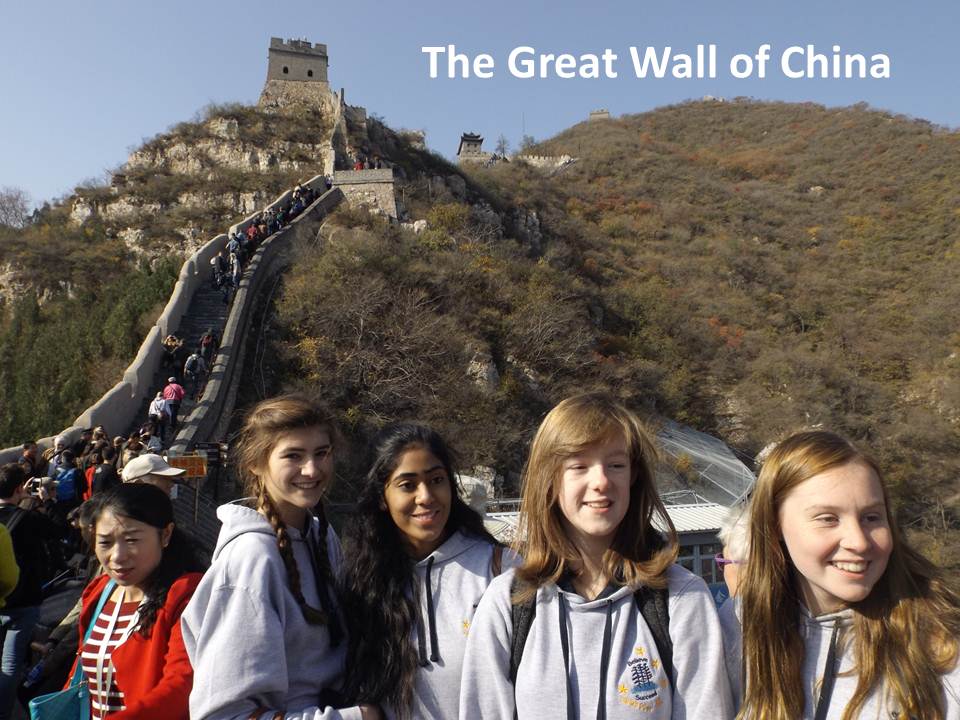 At Collingwood, we are privileged to have a link with China which, for the past decade, has offered our students the special cultural treat of a visit to this wondrous land, and to engage in some exchange with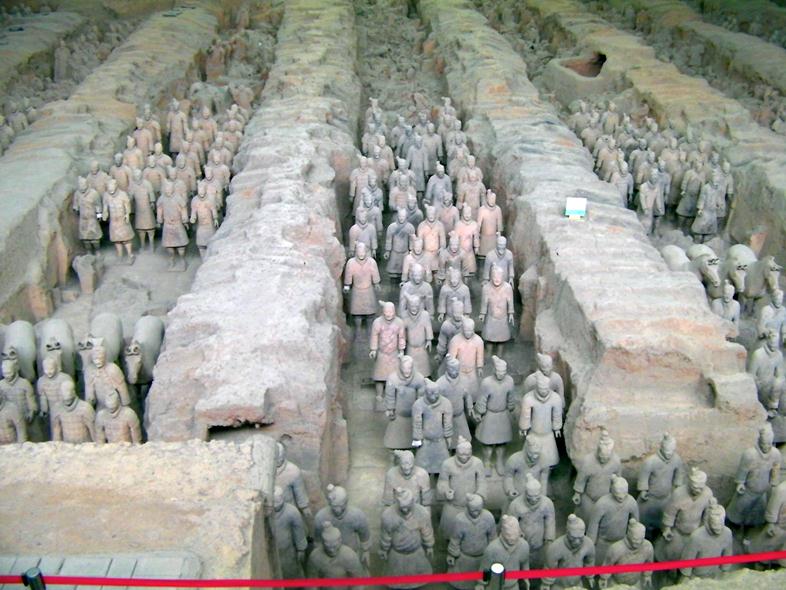 Chinese students from the Jiangning School in Shanghai. Thanks to former teacher, Mr Knowles', linguistic and local knowledge of the country, many Collingwood students have now seen the Terracotta Warriors, The Great Wall and now, more recently, enjoyed an overnight stay with a Shanghai family. The College 'trophy cabinet' in Kingston Reception is testimony to the esteem in which our College is held – with a number of gifts presented to us over the years by the Shanghai school.
The visit is held every two years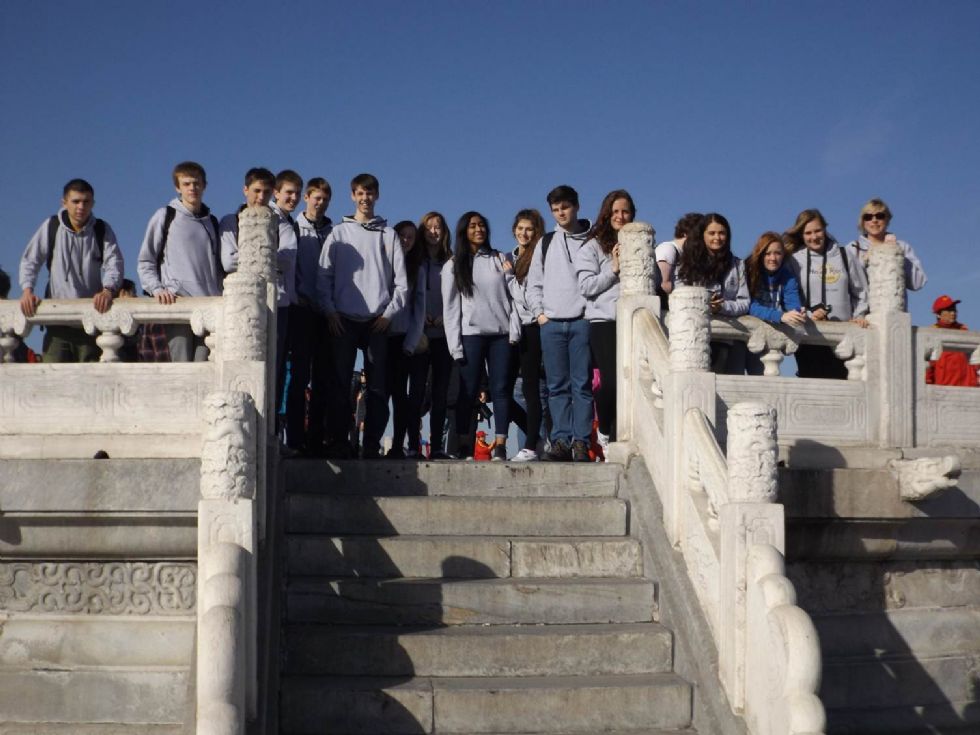 and 20 students visited in October 2014. Our staff leaders have always been anxious that participating students are well prepared for this massive cultural experience, with at least six half-termly meetings in advance of arriving at Heathrow for the flight. Students are very well informed of 'Identity and Belonging' as it pertains to living in China – participant Ruth Bayley said how she "learnt to barter successfully" at a recent preparatory meeting.
Quite amazingly, we do receive bi-annual visits to Collingwood by the Chinese students, probably even more culturally illuminating for our participants. Emma Wiltshire, who assisted the visiting Chinese students in making cup cakes in Food Technology, was clear of some differences…. "In summer it was 37-39 degrees in Shanghai" (she'd discovered from them). Also that "I think communication was a bit difficult as they didn't speak much English" and "I would make sure we learnt some Chinese before our trip." – yes – the whole world doesn't speak English.
SPAIN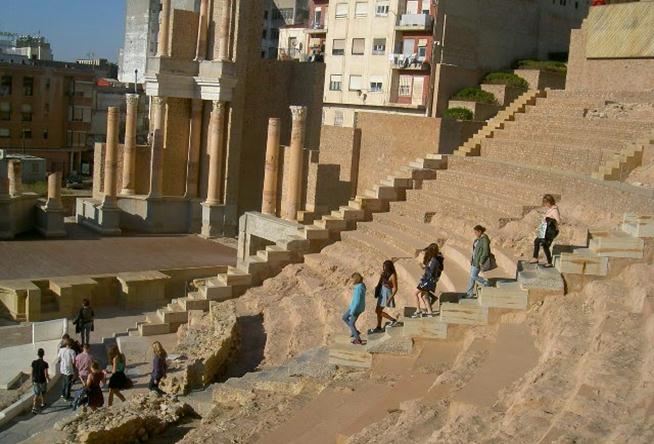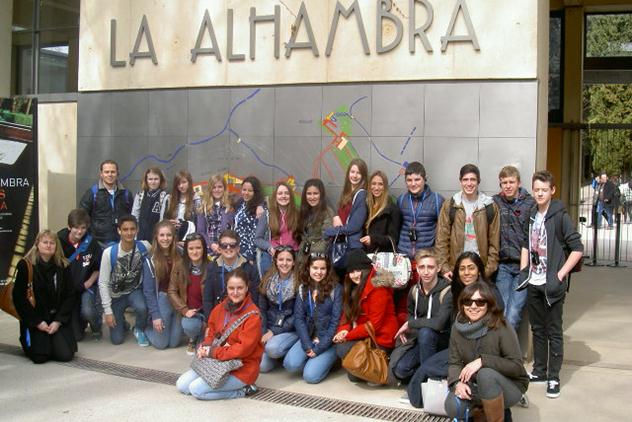 A further excellent College link is with the IES Europa School in Aguilas, SE Spain. The MFL department at Collingwood has conducted four recent Student Exchange Programmes with this school (situated by the Mediterranean Sea) and the programme has brought a number of benefits to both schools, in line with the ideals of being an 'International School'
Students spend a week or so in the corresponding school in the Spring, living in students' homes, socialising with them, attending classes, talking with teachers and others in the community, thus experiencing real Spanish life. When our students returned and reported how they were "getting used to 11pm evening meals", you realised there was something new going on.
So for the ISA Re-accreditation we asked "What can our Spanish Exchange offer beyond a language exchange", our students answered "loads": how different attitudes are in the school classes, how the Spanish conduct themselves in the corridors, the paucity of facilities in the classrooms (yes, we are very fortunate to have interactive whiteboards in every classroom in Collingwood…). What is more
important, of course, for Collingwood students as a whole is that, with an Exchange, Collingwood's language-learning students not fortunate enough to travel to Spain, will be able to converse with the Spanish students when they visit Collingwood on the return 'leg'.
Comments from our most recent exchange participants: "A great thing was being able to try out my Spanish In a way I would not have been able to do in England" (Lucy Cuthbert), "the Pizza is nicer in Spain" (Tom Morgan).
Furthermore, we are lucky that the Spanish school offers a further element: several subjects at IES Europa are taught in the English medium. We have thus shared resources in Science and Humanities, with our students and staff remarking on how similar/different topics can be across Europe. One of our Year 10s commented on an 'exchanged' Spanish Science paper: "I wouldn't like to be tested this way because you have to remember so much…". This exchange clearly fulfils many purposes, including the chance to have full class email exchange - an initiative begun in October 2016 when we were not able to take part in a student exchange.
GERMANY
Mr Bunter's Key Stage 4 visit to Berlin includes a very informative drop-in to the Kant-Gymnasium, a grammar school in Spandau. Identity and Belonging are themes here – what is it like to be part of the new Berlin…? Conflict and Peace – how you cannot avoid these questions once you have seen a real Concentration Camp, a museum of Nazi atrocities, evidence of shooting escapees over the Berlin Wall (and how the Wall came down) and how the German Democratic republic maintained its power until then….?
"I also enjoyed seeing the concentration camp and how the Germans viewed it." (Harry Bradbury). "I could see what German students are like…" (Joe Monk)
C
ollingwood offers with this Berlin visit and link perhaps more questions than answers, but it certainly had a profound effect on the group of visiting Collingwood students in February. There was clear evidence that it roused discussion amongst their families and friends, and much follow-up work in Key Stage 4 German lessons – as well as real cross-curricular discussion for humanities lessons. A display on the Berlin trip is outside the entrance to Room Q12 where German is taught, as a reminder that the department looks outwards towards what the study of language brings to Collingwood students – a sense that there is something beyond funny-sounding words in a Language course – there is a history, a geography, a new culture out there to be explored, as we are an International School.
PHILIPPINES
Collingwood has sponsored children from the Cashew Tree House School, in Manila, in the Philippines for some years now, and a good number of young students have benefitted from financial support for their education. Mrs Phillips co-ordinates this work, linked to the Asian Students Christian Trust (ASCT), a local charity, and each year group supports one student, with Collingwood receiving regular updates on the children's progress at home and at school.
One example is Marry-Jane Araojo, who is supported by Year 10 students. She is now 15, and is a Grade 8 student in the secondary school called Tagumpay National High School. Five students in Collingwood meet every week to discuss Marry-Jane's progress in life and in school (which, thanks to Collingwood College, is very good) and decide how to take this project further. Some 'Mufti' money goes towards supporting these students and the Year 10 students in this Committee report to their fellow students in Assembly as to how Marry-Jane is progressing.
Marry-Jane writes regularly and her letters are read during Year 10 assemblies. She recently wrote: "Dear Collingwood College, Thank you for this wonderful card that you gave to me and thanks for the gift. I bought something like dress, t-shirt, hairpin, and many more things. I hope that you are safe and I pray to God that gave you more blessing."
In a recent interview Jac Gordon (Year 10) who has been associated with this project since Year 7, said "We really enjoy meeting every week, and organising gifts to send over to Marry-Jane, and we think it is good to find out more about how others in the world are less fortunate than ourselves".
NON-TRAVEL ISA PROJECTS
There are many other projects in Collingwood which are actually very much based in the Collingwood community, but nevertheless really bring out the sense of 'internationalism', typical of the College.
ASIAN WEEK
In February, Collingwood celebrates 'Asian Week'. It is perhaps not fully appreciated that the ethnic mix of Collingwood students comprises some 160 students of a non-British background, most of which (110 or so) are from Asian countries (of which over half have a Nepali heritage). Asian Week is used to show off this diversity, and succeeds by most accounts, in a most colourful and dramatic way.
Captain Gurung from the Gurkha regiment at Sandhurst RMA and his men give presentations to assemblies – a real eye-opener to the lives of these Nepalese nationals who train and work with the British Army. Students delight in handling the weapons and the heavy kit. Other year groups are entertained by Mrs Singadia, a professional Bollywood dance teacher, who then teaches the students a short Bollywood routine. Year 11 Nepali dancers give demonstrations at a lunchtime workshop.
There are many other activities in the Asian Week, but what makes this International project very special is the fact that the six-month planning is done through an active pan-Collingwood committee of governors, students and staff working very closely together.
INTERNATIONAL COMMITTEE
An interim Student/Staff International Committee has been established which meets on an adhoc basis and discusses further ways of presenting the International dimension as represented by the students at our establishment. As the year continues, there may well be some representation of the many ideas that the students have had – decorating classrooms down a corridor in the colours of different countries, having a national dress day, tasking the Canteen to provide an even more international menu representative of more of our minorities – but there will indeed be recognition in assemblies later this term of the work and ideas of this group. It is my feeling that this group very much welcomes the fact that their voice is being heard – very important for advancing integration in the College.
YOU DON'T HAVE TO 'DO A TRIP' TO BE INTERNATIONALLY THINKING
In the example activities we see how International Activities and Projects which are very much College-based can involve, challenge and inspire students to look beyond their immediate environs. It is clear that 'Travel Broadens The Mind', but all these activities enhance education itself. Watching an Indian Bollywood dancer challenges one's thoughts in RS, PE/Dance, MFL, Music. Eating at the Multicultural Week Food Hall enhances students' knowledge of Geography, (Food) Technology and Language. Discussion of Eco matters equally develops students' knowledge of Geography, Science and International Politics, to name but a view. I really think we should not forget this as we see the International School Award logo (2014-17) on our College Letterhead!
ISA 'AMBASSADORIAL' ROLE
Finally an Ambassadorial Role for Collingwood in spreading the word about International Schools amongst the community. Over the past year the Headteacher of Connaught School, Bagshot (a key feeder school to Collingwood) and his colleagues have shown interest in Collingwood's ISA activities and have, with the help of Mr Bunter, started a partner relationship with a Primary School in Eastern Sri Lanka. This has involved introductory assemblies by Mr Bunter at Connaught (a feature was sharing the terrible effects of civil war in this area) and fundraising from their Coffee Morning. The Sri Lankan school, in a very poor village and community in Mahaliveddavam, has now benefitted from a gift of musical instruments and an improved electricity supply as a result of monies raised by Connaught students. The Year 4 students prepared questions for the charity's representative to ask the students in Sri Lanka. Students of the future Collingwood Community thus have an improved perception of 'Fairness and Equality', to name but one of the ISA themes.
Mr Bunter - International School Award Co-ordinator